" />
Clive Barker Drops Details on the 'Hellraiser' Reboot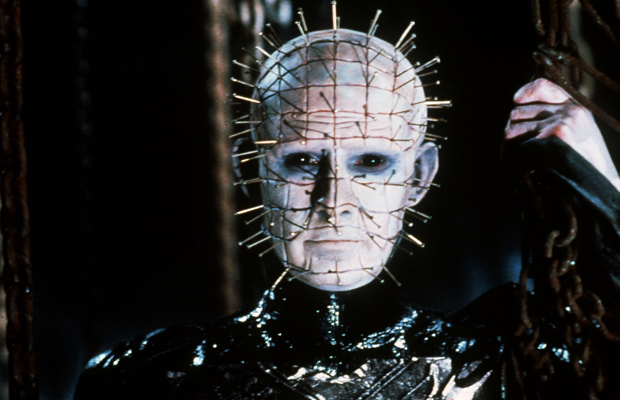 So what the hell is going on with the rumored Hellraiser remake from Dimension? Well, we're not entirely certain, but we do have some interesting notes from Clive Barker, author of "The Hellbound Heart", the story from which the film is based. Barker's been chatting it up on Facebook about the picture, and while we haven't heard much in the way of major breaks from Dimension, it certainly looks as though Hellraiser will soon be remade, and Clive Barker himself will write the new script.
But that's not where the info ends. Barker has confirmed what just about everyone alive already suspected, the flick will receive an R rating. Likely, a pretty hard R. Fans of the original frequently associate the film with extreme gore, and given the nature of the story it's unlikely that changes in any significant way. Especially if Clive's script is the final script utilized by Dimension (not a guarantee, mind you). That is, of course, assuming Dimension can actually make this one happen. It wouldn't surprise most if this remake takes up inhabitance with the oft (or is it always?) delayed Halloween 3.
You can check out Barker's official Facebook post directly below (for the entire scoop from the twisted mastermind himself). We'll keep you in the loop as details surface, if they surface.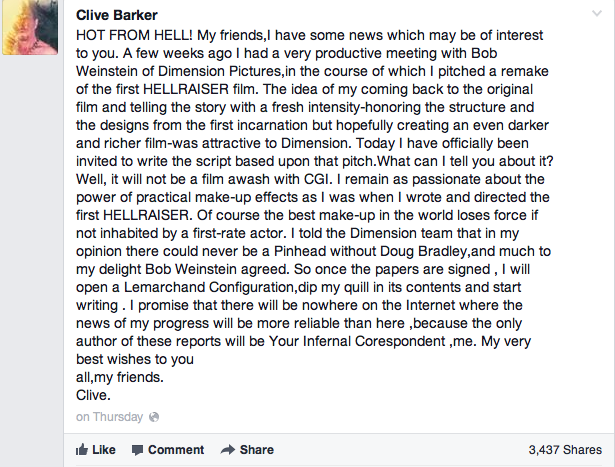 The original Hellraiser was released in 1987 to a whole slew of differing opinions. To this day hardcore horror addicts consider the picture to be one of the most unsettling films ever shot. Andrew Robinson (Dirty Harry), Clare Higgins (The Golden Compass), Ashley Laurence (Red) and Doug Bradley (pioneer of the onscreen Cenobite leader, Pinhead) front the picture.



Also on the Web

---
Note: Comments May Take up to 60 Minutes to Display