" />
If You Love Chucky, You Wont Want to Miss This Chucky Megamix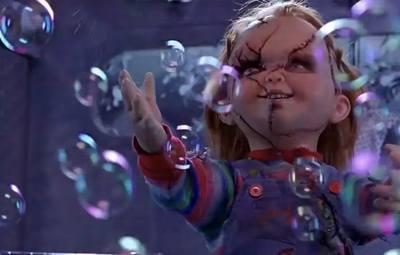 Wanna Play? Celebrate the 25th anniversary of the murderous doll that launched a generation's nightmares with the Chucky Megamix!  Mike Realm has taken all 6 Chucky movies and created a "bloody" good mash up!
Curse of Chucky: The Complete Collection is now available on VOD and Blu-ray.
Set a play date with Chucky as all six movies come together for the first time in the chilling Chucky Complete Collection Limited Edition. The killer doll torments his original victim, young Andy Barclay, in Child's Play, Child's Play 2 and Child's Play 3. Then the ruthless redhead teams up with his dream doll, Tiffany (Jennifer Tilly), in Bride of Chucky and Seed of Chucky. Chucky is back again in Curse of Chucky to terrorize a family with whom he shares a mysterious connection. Oozing with hours of bonus materials, the Chucky Complete Collection Limited Edition is a thrilling, chilling, campy, must-own set.  Wanna play?
http://www.viddler.com/embed/5c87bd64/?f=1&autoplay=0&player=full&secret=102506501&loop=0&nologo=0&hd=0



Also on the Web

---
Note: Comments May Take up to 60 Minutes to Display